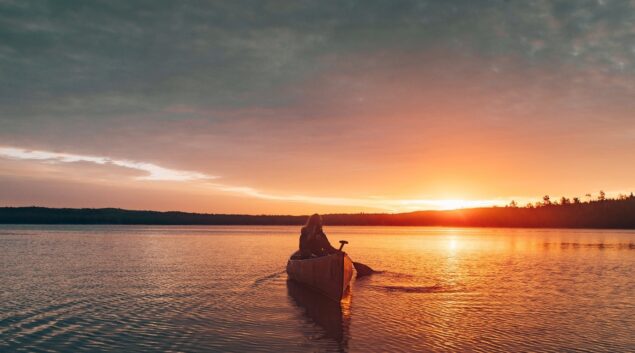 All planetary boundaries have been quantified for the first time: six out of nine have already been crossed, and pressure on the remaining three is ever increasing. This is what emerges from a study published on Science Advances in September 2023.
While this is clearly alarming news, we have the power to revert environmental changes. Companies – especially the large ones – need to understand their central role in the transition towards a more balanced economy. The numerical assessments of planetary boundaries provide a powerful tool for companies to draw their sustainability strategies in line with Science-Based targets
What are planetary boundaries

, and why is this big news?
Planetary boundaries are a framework developed in 2009 by a group of scientists led by Johan Rockström (Stockholm Resilience Centre). They aim to describe the limits that human activities must not exceed to preserve environmental stability and resilience. Alternatively put, they define a safe operating space for humanity to grow and thrive within. The long-term effect of crossing these boundaries may "trigger non-linear, abrupt environmental change within continental-scale to planetary-scale systems" (Nature).  
In September 2023, all nine boundaries were quantified for the first time, and the in-depth results are published on ScienceAdvances. Six boundaries were found to have been exceeded: biogeochemical flows, freshwater change, land-system change, biosphere integrity, climate change and novel entities. Ocean acidification, atmospheric aerosol loading, and stratospheric ozone depletion are still within their respective thresholds, but pressure is increasing.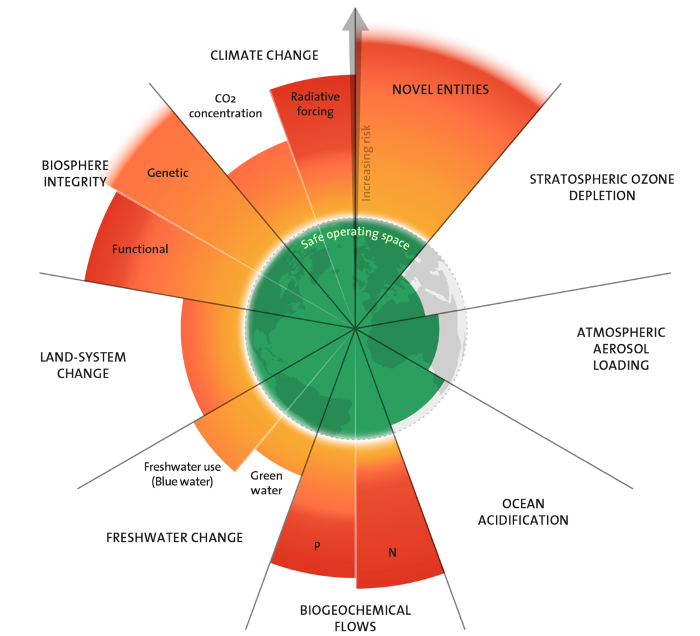 This scenario is even more alarming if we consider that the nine areas are not independent from one another. Rather, they influence each other, and they are very clearly linked to human activities. 
Nonetheless, this mutual influence between the planet and humans can be an opportunity: although it will be a complex process, nature can be restored and economic activities brought back into the planetary boundaries, if effort from society is collectively taken. As an example, the boundary for ozone depletion was exceeded in the 1990s but thanks to global initiatives, this threshold is no longer transgressed (Katherine Richardson, leader of the Sustainability Science Centre at the University of Copenhagen). However, the current picture evidently shows that action is needed urgently.
Why is this important for

businesses?
Businesses are core agents in our society and are responsible for societal wealth creation as well as societal and environmental degradation. Simplified – they are part of the problem and the solution. Coordinated global action addressing the planetary boundaries must also therefore include corporate action. However, a business-as-usual approach won't be enough to affect change. Businesses looking to make an impact need a better framework to understand their position within the environment, society, and the economy.  
The start of this shift in strategy can be simply represented below in moving away from a 'triple-bottom-line' approach towards sustainability and instead choosing an integrated model focused on system value.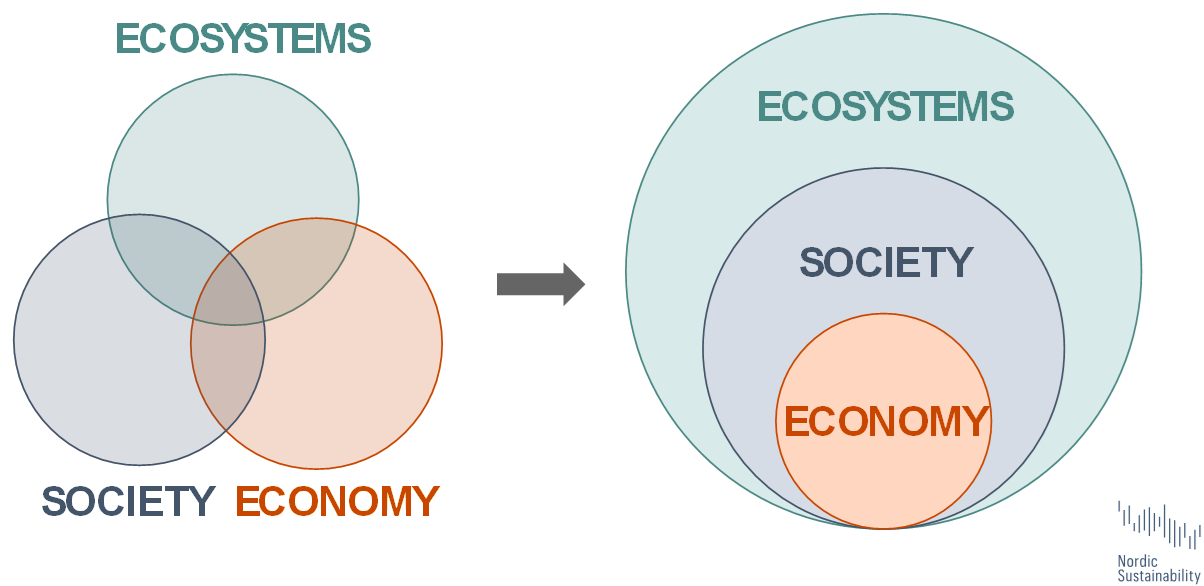 This model recognizes that the environment is the supporting system of both a healthy society and the economy. In fact, all businesses depend on a large variety of ecosystems and societal services, which are essential to their resilience. When these primary services degrade, so does the economy, leading to not only monetary loss, but loss of capital in its broader definition. It is therefore in all businesses' best interest to operate within thriving ecosystems and societies, and support these structures.
While the environment is the supporting system, this integrated perspective also goes to show the central role of large businesses in driving change: not only do they lay at the core of the system, but their size gives them the power to significantly influence society and the environment. Therefore, it is crucial for them to understand their immense potential and use it for the better, actively being at the forefront of positive change.  
 At Nordic Sustainability, we base our interactions with these large private companies on three deeply held convictions:  
Short term, companies are

expected

to change by their stakeholders, including potential customers, investors, civil society and regulators. 

 

Mid-term, companies

benefit

from leading the change, creating competitive advantage by unlocking new revenue streams and re-modelling their value chain. 

Long-term, companies

have to

change. In order to be resilient and continuously thrive economically, their activities cannot contribute to breaching our planetary boundaries.
What we want to do as Nordic Sustainability, is to not only focus on short term benefit for our clients but help them undertake a profound transformation to be resilient in the long term, and prepare them to be fit for the future. Through this we aim to refine what a sustainability leader looks like – beyond simple compliance, and towards a truly sustainable company.
Taking action
These considerations show how important it is to have a structured and fact-based approach to sustainability strategy, in order to be truly effective.  
First, companies need to understand where they are today, by doing a comprehensive baseline assessment that accounts for all their impacts on the environment and society.  
Next, they need to have a sense of direction and decide where they want to be, by setting measurable Science-Based targets and drawing a strategy to achieve them. 
Lastly, the strategy needs to be implemented at every level of the organiszation, to ensure a true and effective change towards real sustainability.  
At Nordic Sustainability we provide a variety of services to assist our clients throughout these steps, and we encourage you to reach out if you would like to know more.