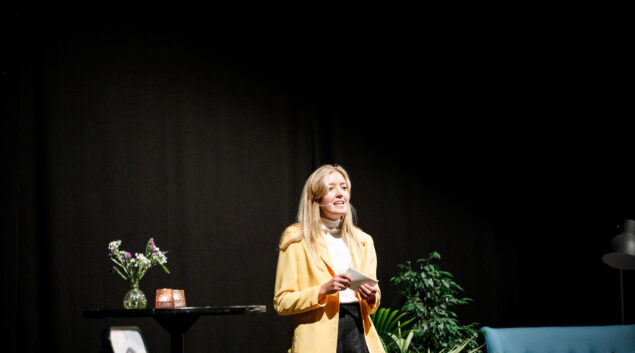 Those are the first words our Associate Consultant Daura Van Vuuren spoke at the Bevica Scholarship symposium. We take great pride in our team's accomplishments, and today, we are thrilled to share one of them with you. Daura has been awarded the Bevica Scholarship, a testament to her dedication and pioneering work in promoting Disability-Inclusive Climate Action. 
Empowering

d

isability-

i

nclusive

c

limate

a

ction
Daura's project focuses on a significant but not often talked about matter – the inclusion of people with disabilities in climate action policies. Denmark is taking significant strides towards a more sustainable future, playing a pivotal role in the global battle against climate change. Still, the rights and needs of individuals with disabilities are left unaddressed in their climate action policies. Daura highlighted this critical issue, emphasising the increased vulnerability of people with disabilities during climate emergencies, such as hurricanes, floods, and heatwaves. Her message was clear: it's time for Denmark to uphold its legal obligations under the Paris Agreement and the Convention on the Rights of Persons with Disabilities. 
What's more, a minimum of one-third of the Danish population between the ages of 16 and 64 has self-assessed impairments. This, coupled with the neglect of Denmark's commitments in the Paris Agreement and the Convention on the Rights of Persons with Disabilities, underscores the urgency of the issue.  
Daura's journey to the Bevica Scholarship was nothing short of extraordinary. She stepped onto a global stage, addressing an international jury with a spotlight on her face, to present her vision in what she describes as the shortest three minutes of her life. The result? Daura secured the Bevica Scholarship grant of DKK 350,000 (approximately 47,000 euros) to advance her research and develop her proposal.
But what sets Daura apart is not just the scholarship itself but the profound purpose behind her work. She is on a mission to hold the state of Denmark accountable for its climate action policies when it comes to the rights and well-being of all its citizens, particularly those with disabilities. The impact potential of her work is significant, and the outpouring of support she has received is truly motivating.
A

p

ersonal

c

onnection

to the

c

ause
What drives Daura's passion for Disability-Inclusive Climate Action? She attributes it to her close-knit family, which includes her oldest brother, Joran, who has Down syndrome. From a young age, Daura learned that inclusivity is key; if a plan doesn't include everyone, it's time to create a new one. Her MSc in Climate Change: Impacts, Mitigation and Adaptation at the University of Copenhagen only reinforced this conviction and her personal connection to the cause makes her a dedicated and empathetic advocate for those who often go unheard.
A

b

right

f

uture

for

s

ustainability
We are excited to see Daura's project unfold as she collaborates with the Disability-Inclusive Climate Action Research Program (DICARP) and the Faculty of Science at the University of Copenhagen. Daura will work closely together with disability and human rights advocates active in Denmark, and the grant will be used to connect and visit leading international initiatives in disability-inclusive policymaking and climate litigation. Her learnings will be paired with science-based policy analyses and together with her team of experts, Daura will explore whether there is a potential legal case against the State of Denmark. Her determination to make a positive impact on society is unwavering, and we have no doubt that her journey has only just begun.
As a company that values diversity, inclusion, and sustainability, we couldn't be prouder of Daura's outstanding achievement. Her success reflects our commitment to making a positive impact on the world. We eagerly anticipate the progress and change she will champion through her research and advocacy.
Daura, congratulations on your remarkable achievement. We are proud to have you as part of Nordic Sustainability, and we look forward to witnessing the positive change you will undoubtedly bring to the world. 
Watch Daura's pitch at the Bevica Scholarship symposium here.