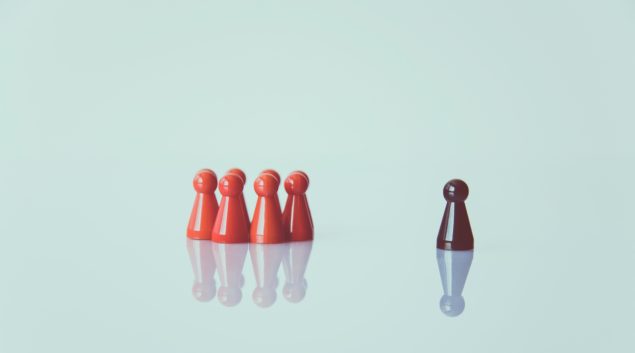 The sustainability landscape is moving fast, and companies are trying their best to keep up with the pace. In response to changing regulations and requirements, and as an attempt to anchor sustainability at the core of the business, more and more firms are now hiring Chief Sustainability Officers or CSOs (not to be confused with Chief Sales Officers).
However, as the position has not been around for long yet, there is uncertainty around which tasks and responsibilities come with it. The confusion is further exacerbated by the fact that the CSO's mandate and reporting lines vary widely, with only a minority reporting directly to the CEO. In this post, we aim to prepare companies for the next wave of sustainability officers by addressing the question marks around the role of the CSO, and discussing the importance of building science-based sustainability strategies.
Eight foundational responsibilities of the CSO
Authors of a recent article published in Harvard Business Review (HBR) have made a first attempt at outlining a set of key responsibilities that come with taking on the role of the CSO, namely the following:
Ensure regulatory compliance and assess risk management.
Monitor and report on ESG (environmental, social, and governance) metrics.
Oversee sustainability projects and coordinate operational efforts.
Manage stakeholder relationships to build constructive, transparent relationships.
Build organizational capabilities through upskilling and sharing best practices.
Foster cultural change and promote mindset shifts.
Scout and experiment with emerging sustainability technologies and solutions.
Embed sustainability into decision-making processes.
Esben Samsø Lanthén, Founding Partner at Nordic Sustainability, agrees with the list above, but argues there is a central responsibility missing: "One of the key responsibilities of a CSO is how to build a strong and ambitious sustainability strategy that is aligned with science."
The ninth responsibility – Building science-based strategies*
It is essential for all companies to adopt sustainability as a key component of their strategic planning. As the EU's new draft European Sustainability Reporting Standards (ESRS) require companies to set measurable targets to ensure progress towards sustainability, a strategic approach to sustainability will become a matter of compliance for many companies. Further drivers for sustainability strategies range from fostering resilience to driving competitive advantage. In this context, the CSO plays a vital role in defining a strategic vision for the organisation's future sustainability performance, how to get there, and how to integrate this strategy into the core business model.
It is crucial to note that senior executives, or the C-suite, should be aware of the importance of Environmental, Social, and Governance (ESG) factors and are committed to aligning their organisations' strategies with sustainability goals. This commitment is particularly relevant in the European Union, as it is the Board that holds the ultimate responsibility for approving and implementing the new sustainability reporting requirements outlined in the ESRS. Therefore, it is imperative that the CSO works closely with the board to ensure that sustainability is integrated into the company's strategic planning and decision-making processes.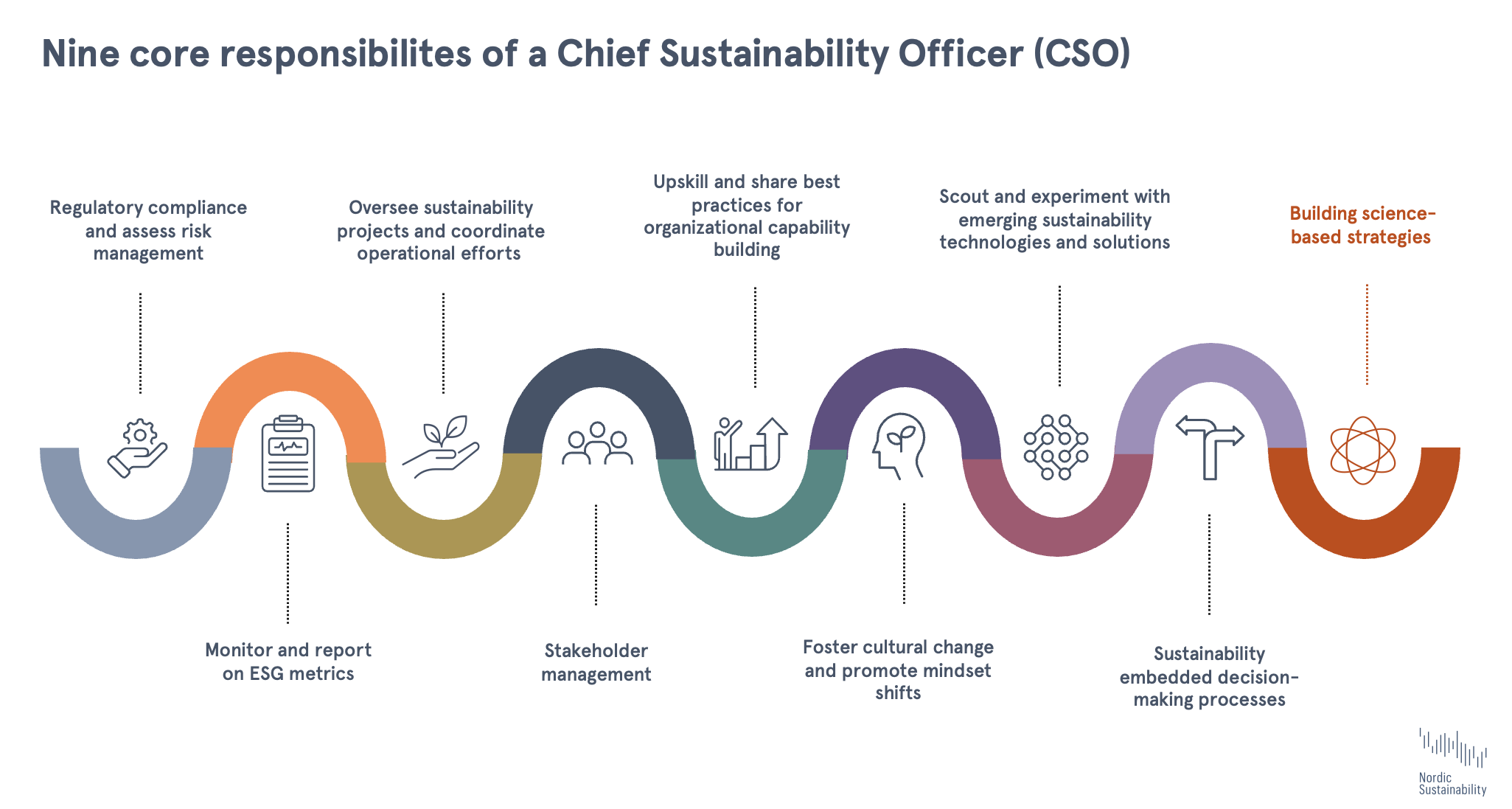 How can this framework be used going forward?
These nine key responsibilities of a CSO are a valuable resource for companies looking to evaluate potential candidates for the position. As the field of sustainability continues to grow and evolve, it is increasingly important for companies to have a skilled and knowledgeable CSO who can help them navigate complex ESG issues. By using the insights provided in this article, and by defining the core responsibilities of a CSO, companies can gain a better understanding of the necessary skills and competencies required for the position.
Putting the responsibilities into practice
 The authors of the HBR article introduce a workshop exercise where the responsibilities are scored with a spider graph according to efforts used on each area of responsibility.
The responsibilities should be positioned on the outside points of seven concentric nonagon, starting at the top and working clockwise. During a group discussion, each responsibility should then be rated based on the amount of effort currently being used, using a scale of 1-2 for low effort, 3-5 for medium effort, and 6-7 for high effort. A dot should then be positioned on the nonagon that corresponds with the task's level of effort, as demonstrated on the graphic below.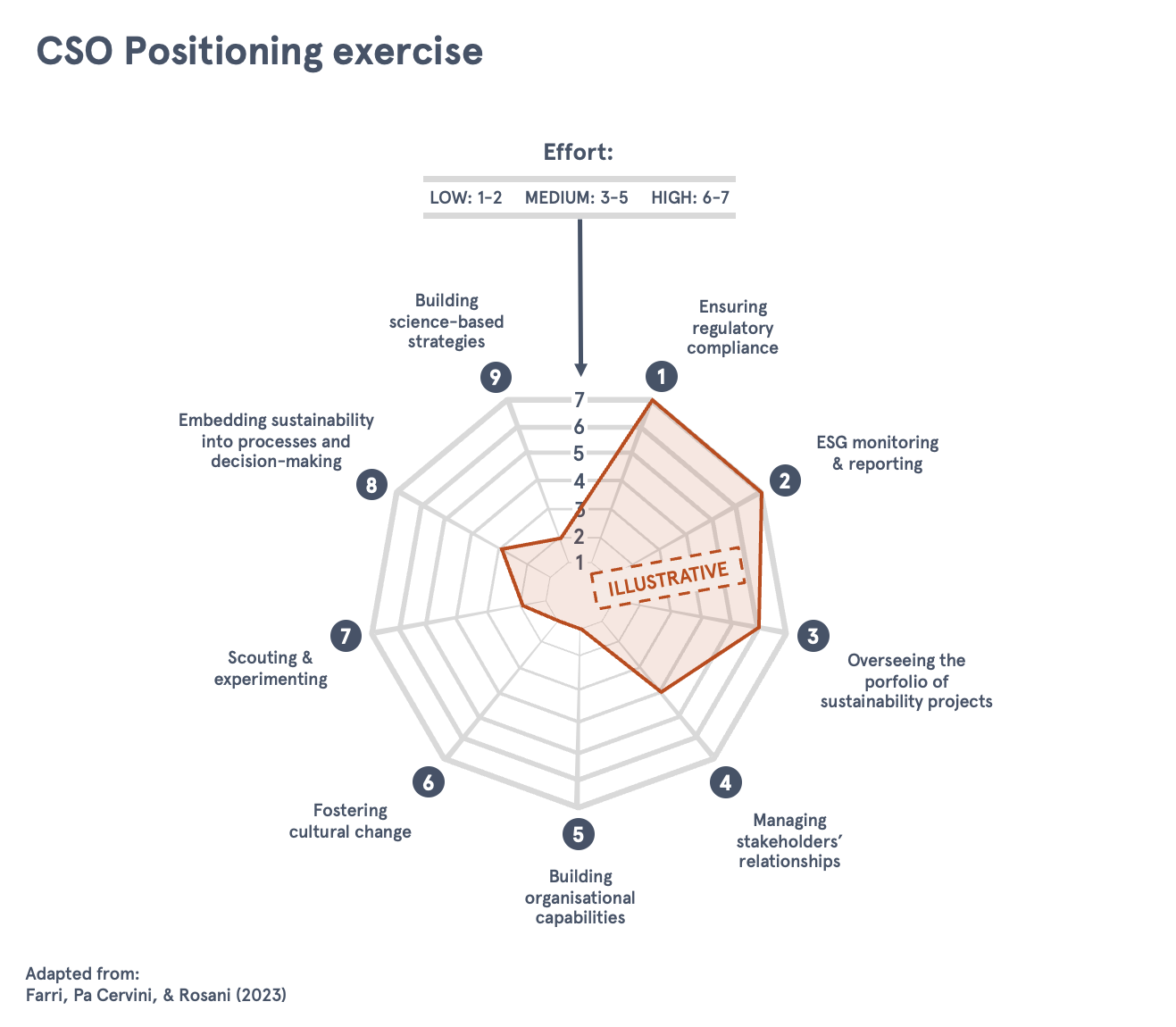 The authors piloted the exercise with a German manufacturer, whose executive team was lacking strategic thinking around the "what and "why" of their CSO role. By performing the workshop exercise and visualizing the current positioning and focus areas of the role, they were able to draw insightful conclusions, such as that several responsibilities were not sufficiently covered at the time. After discussing each of the responsibilities in more depth, they also discovered that the CSO at the time had an almost exclusive emphasis on climate change.
By using a workshop exercise like this to evaluate the current efforts being used on each area of responsibility, companies can gain valuable insights and identify areas of improvement. With a strong and well-positioned CSO role in place, companies have better chances at pushing ahead on their on their sustainability commitments and ensure that the organisation's entire strategy is aligned with them.
*The ninth responsibility is inspired by an employee of Maersk on LinkedIn.