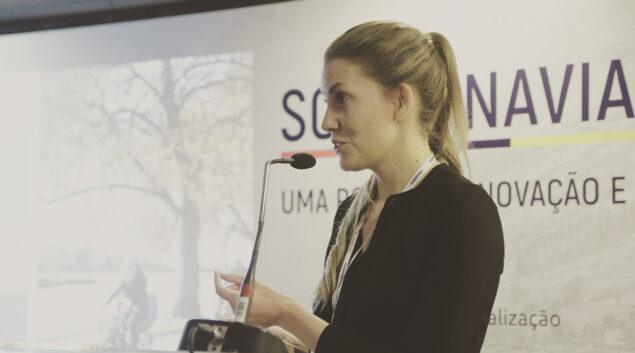 While a vast number of cities across the world are making ambitious plans to lower their carbon emissions, a few are going as far as setting goals to become fully carbon neutral.
Copenhagen is one of them; aiming to be carbon neutral in 2025. Although the capital city's evaluation halfway through the plan shows difficulties achieving the big round zero in time, it is also no secret that it is perpetually those remaining tons of CO2 that are the hardest to omit.
Yet, with a climate plan in place, Copenhagen shows a commitment to become a part of the solution and not the problem. This is what I was recently invited to Sao Paulo in Brazil to talk about — the solutions. The event, Scandinavian Day, organized by the largest communication agency in Brazil, Imagem Corporativa, focused on Scandinavian solutions to climate change, education, and much more.
Copenhagen's climate solutions
Despite the CO2 reduction deficit that the Copenhagen Climate Plan for 2025 is battling halfway through towards 2025, the plan itself has a number of solutions that other major cities could do well to copy. Here are three of the solutions I presented in Sao Paulo which Copenhagen is implementing in order to get as close to carbon neutrality as possible:
Retrofitting an ageing building stock
With buildings accounting for nearly 40% of global energy consumption, renovation and retrofitting the built mass is a prerequisite for achieving sufficient CO2 reductions to handle climate change. In Copenhagen, the renovation of a 100-year old property in Ryesgade has raised the bar for sustainable urban retrofitting. The renovation of Ryesgade resulted in a 71% CO2 reduction, making the project a strong example of how to achieve high energy savings through well thought-out, holistic solutions.
Green procurement policies
Through a new procurement policy, Copenhagen is demonstrating how public actors can motivate the private sector to produce sustainable products and services. The new procurement policy demands that the municipality buys eco-labeled products where possible. The Copenhagen municipality yearly buys products for more than 300 million DKK, stimulating a large demand for eco-labeled and responsible products.
Intelligent transport systems
The Copenhageners bike more than 1.3 million kilometers each week on average. By introducing an intelligent transport system (ITS) connected to municipal traffic signals, cyclists' travel time is cut 10% and bus passengers' travel time is reduced up to 20%. Through the ITS, the city is promoting climate-friendly transport and continuously incentivizing leaving the car behind.