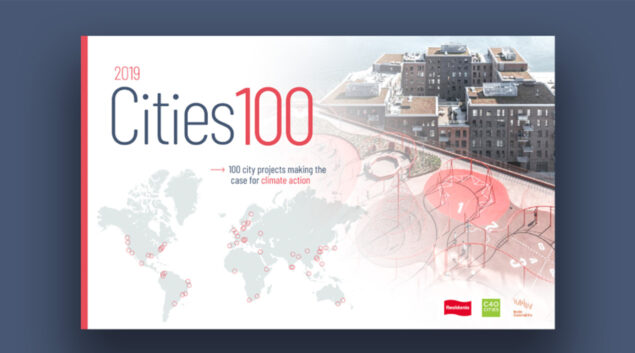 Cities' leadership on the climate crisis provides the added benefit of creating safe, liveable, and equitable cities for all citizens, new report shows.
The Cities100 report launched today showcases ambitious and innovative action from 100 of the most forward-thinking and inclusive climate action projects worldwide. The cities featured demonstrate they can deliver on the highest goals of the Paris Agreement and drive forward solutions to the climate crisis.
Entering its fourth year, this Cities100 report showcases leading examples of climate action taking place across all sectors of society, including sustainable mobility, climate action planning, and clean energy, as well as air quality, inclusive climate action, and sustainable food systems. Examples span across 59 cities and 26 countries, future-proofing themselves against the diverse challenges of climate change including extreme weather, heightened inequalities, and sea level rise.
Citizens are fighting for a bright and inclusive future
The impacts of climate change can often be felt most acutely by the most vulnerable in society. Cities100 demonstrates that inclusivity is becoming a prerequisite for city climate action, with more cities than ever integrating meaningful citizen engagement in their planning efforts. In the Danish Municipality of Gladsaxe, citizens co-created a climate adapted neighbourhood and multi-purpose greenspace, with the ideas created through citizen-led workshops, decided upon via a community voting event, and developed via a participatory budget.
This year, Greta Thunberg and the youth climate strikes triggered a movement of young people engaging in climate activism. Cities100's chapter on Citizen Engagement demonstrates that young people can be effective agents of change. In the Mexican municipality of Zapopan, children are being taught sustainable mobility and enlisted to challenge their parents' generation's dependence on cars.
Cities are stepping up to cut down on deadly air pollution
Increasingly, cities are taking action on the silent killer of air quality. The World Health Organization estimates that seven million people die each year from exposure to polluted air. London is protecting the lungs of over two million of the city's residents with the introduction of the world's strictest standards for vehicular air pollution to slash air pollution – the Ultra Low Emission Zone (ULEZ). In Copenhagen, the Cycle Super Highways are keeping citizens healthy while lowering transport related emissions in the capital.
New insights and analysis
The 2019 edition of Cities100 report also features a new extended section on 'What other cities can learn', helping mayors and city workers glean inspiration from each city. In addition, this year's report will feature an extensive analysis showcasing the global trends in city climate action as well as insights into the challenges and successes of the frontrunner cities working towards achieving safe, green, and liveable cities.
To share best practices and celebrate the launch of Cities100, cities from around the world will gather at the 2019 C40 World Mayors Summit in Copenhagen from October 9th-12th.
From the cities featured in the report, seven international winners for the C40 Cities Bloomberg Philanthropies Awards will be chosen and awarded during the Summit.
Cities100 is created as a collaboration between the consultancy firm Nordic Sustainability and C40 Cities, and is funded by the Danish philanthropic association, Realdania.
Read the full report

You can access the full report by visiting the Cities100 website via the link below.