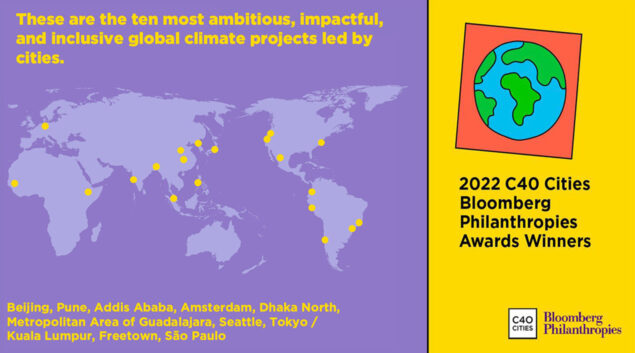 We often get asked what it really is that we do as sustainability consultants. Today we'll provide you with a very tangible answer to that question by diving into some of our recent work with C40 Cities.
Throughout the past months, our colleagues David, Bea, Eamon, and Emma were part of an exciting project with C40 Cities in preparation for the C40 Cities Bloomberg Philanthropies Awards. With the announcement of the award winners in the end of October, we figured it would be a fitting time to share our thoughts on the project, both in terms of the process and its outcomes. To do that, we hand over the microphone to David for a little Q&A session.
1) What was this project about?
– David: The C40 Cities Bloomberg Philanthropies Awards recognise the best policies, projects or programmes led by mayors that are effectively addressing the climate crisis.
Building on the theme of this year's C40 World Mayors Summit – United in Action – the five award categories showcase projects that demonstrate city leadership in the following areas:
1. United in cleaning the air we breathe
2. United in accelerating immediate action in critical sectors
3. United in building climate resilience
4. United in innovation
5. United in building a climate movement
The winners were announced in late October, during the opening reception of the C40 World Mayors Summit in Buenos Aires.
2) What was Nordic Sustainability's role in this project?
– David: While on this project, we really got to utilise our entire consultant-skillset: we started with a quantitative assessment, as we needed to do a rough sorting of the 70+ applications submitted by the cities. We evaluated the projects based on different parameters, such as achieved and expected climate impact, innovativeness, sharing and scaling potential, as well as wider societal benefits.
The second half of the project was marked by more qualitative elements, where we involved C40 employees with expertise in different topics to help boil down our short-listed cities even further. This process ultimately resulted in a decision on the four finalists (per category) that were later presented to the jury, who then got to make the final decision on who was to become a winner.
3) Why do you find this project important?
– David: According to the World Bank, cities account for more than 70% of all CO2 emissions globally and consume roughly the same share of all the world's energy. C40 is thus doing an immensely important job in facilitating cities to take action against climate change. These Awards celebrate the most ambitious, impactful and inclusive global climate projects led by cities.
5) Are there any city projects you found particularly interesting?
– David: It's hard not to be impressed by Freetown's project, which I was not at all surprised to see as one of the winners for category 4 – United to Innovate. The project focuses on reducing landslide and flooding risks through increasing the city's green space and vegetation cover, engaging the local community in planting, growing, and tracking 1 million trees and restoring 3,000 hectares of land. One innovative aspect of the project that really stood out to our team was the usage of low-cost digital tech to track the trees planted, helping not only to monitoring progress, but also providing particularly women and young people with jobs.
However, also among the finalists that didn't end up as winners this year, there were many projects that are inspiring and worth reading up on. It was also great to see that the majority of them are cities in the Global South, with Latin American cities really standing out this year.
4) How did you find working on this project overall?
– It was a great project to be on. The C40 team was a joy to work with, and I enjoyed being on a rather content-heavy project, where we really had to familiarise ourselves with city-level climate action. As a consultant, you are often working more on project and process management, and less on thematic content – so this was a nice change.